BD3: EVAN PARKER AT THE FINGER PALACE (LP)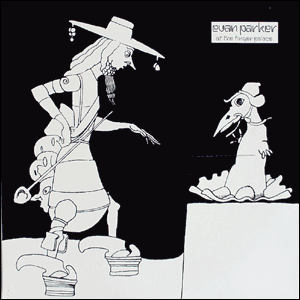 Some say their lives were changed, others say their ears were cleaned beyond recognition; some began practicing their instruments, others gave them up completely. But everyone was willing to pay more (than $3.00) to get into Woody Woodman's Finger Palace after that.
"The Incredible Evan Parker, On Tour From England, Performing Extended Improvisations," outmaneuvered the billing for that second night in November 1978. And fortunately for everyone, a very good recording was made and subsequently released in LP form as "Evan Parker at The Finger Palace."
The record revealed Evan Parker's mastery of the soprano saxophone in a brilliant 46-minute solo, which was broken into two parts for the disc and titled, appropriately, Fingerprints, Parts 1 & 2. It would be nice to reissue this glorious music in CD format, unified and unfaded in the middle, and The Beak Doctor is looking closely into the Mirror of Possibilities. But the LP record has always given pleasure beyond even the most peculiar of imaginations (the artwork on the cover, by Jean de Bosschère, is a perfect match to the music), and something must be said for flipping Evan over in the middle of his flipping us so magically.
As Woody rightly prophesied at the time, "This Music Will Bend Your Pineal Gland Twice!" How did he know?

BD3: Evan Parker at The Finger Palace

Evan Parker: Soprano Saxophone Solo

Part 1: Fingerprints (22:30)
Part 2: Fingerprints (23:08)

Recorded in performance at Woody Woodman's Finger Palace, Berkeley, California, USA, November 2, 1978

Composition by Evan Parker
© Compatible Recording & Publishing Ltd. (PRS) 1980/ (P) The Beak Doctor
Cover illustration from The City Curious by Jean de Bosschère, 1920
Production: Woody Woodman and Henry Kaiser

LP: presently out of print.
Inquire with the Main Beak