BD4: THE CONSTRUCTION OF RUINS: THE AUSTRALIAN SITE (LP)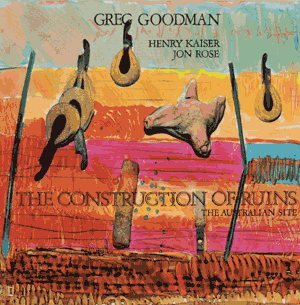 The Construction of Ruins is an avant-garde theatre assumption, etc. Slight of mind is employed throughout. Every effort is made. Ears are helpful.
These assumptions have been constructed:
Peculiar Case of the Killer Umbrella: Berkeley, California

Superficial Inquest Into the Shroud of Turin: Moers, Germany

The Disclosure of Gasoline Rationing and Death and Resurrection of the WoodYear Blimp: Berkeley, California

Tut Tells All: San Francisco, California

Space is No Place to Shuttle: Bremen, Germany and London, England

The Construction Site: Berkeley, San Francisco, and Perth, Australia

The Nullarbor is Not Flat: Perth, Australia

No-Noh: Tokyo, Sendei, and Kyoto, Japan

In these investigations I often use ephemera appearing under nose: "stuff" informing the historical phenomenon. So, in Tut Tells All, for the purposes of illustration, I put a trout wrapped in Johnson & Johnson bandages and sequin jewels into a fish-shaped Sarcophagus (jello-mold), and thus gave some insight into the mysterious ancient rites of mummification; in this case, of The Pharoah Fish. In this same performance I found it necessary to sacrifice 12 gas cans and caps into the mouth of the piano in the name of the ongoing gas crisis--a situation which made it difficult to get to the Tut Exhibit across the Bay, let alone buy and eat fish.
One side of this record, The Nullarbor is Not Flat, was composed during a ten-week journey through Australia in 1982, and was recorded during my participation in February at The Festival of Perth. The experience of modern transport and communication, against a background of awesome, narcotic landscape, led to the unearthing of a collection of disposable service artifacts. Some of these, acquired on a four-day train trip across the continent, became explicit components of my presentation. As appurtenant instruments they forged the musical foundation of this Construction piece. Their participation in The Australian Site reveals cultural proclivities decoded and recorded in the form of sonic possibilities, and you should hear this record.
The Artifacts:
2 Emu beer cans

7 cardboard coasters

1 2nd seating meal ticket

6 blue plastic straws

2 National Australian Railway postcards showing the "Indian Pacific"

1 NAR ashtray

2 bars Railway soap

1 NAR ticket & pass

1 Time and Location Schedule

1 2' x 3' National Australian Railway Map

1 NAR shoeshine packet

1 packet Railway coffee

1 packet Railway tea

1 teaspoon

1 packet NAR Complimentary Biscuits

2 NAR sugar packets, one depicting surfers, the other depicting penguins

The first two pieces on Other Side, U-DAG and Dingos In Quest, evolved from performances with Henry Kaiser and Jon Rose at The Relative Band Festival, The Festival of Sydney, and The Sydney Jazz Festival. Henry performed after being bitten by a very large potato cod while scuba diving off the Great Barrier Reef; Jon went on to perform the world's longest violin solo: 12 hours in a glass-lined room.
The last piece, Notes, was composed for Lennie Tristano, who, like Mr. Poe, enjoyed an occasional Descent Into The Maelstrom.
BD4: The Construction of Ruins: The Australian Site
Greg Goodman: Unprepared Piano
Henry Kaiser: Guitars
Jon Rose: Various Violins

One Side:
The Nullarbar is Not Flat: Goodman (23:28)

Other Side:
U-DAG: Goodman, Rose (8:13)
Dingos In Quest: Goodman, Kaiser, Rose (10:00)
Notes: Goodman (9:55)

Recorded in 1982 in Sydney & Perth, Australia.
All music © (P) 1982 The Beak Doctor.
Jacket design and illustration by Naomie Kremer, Oakland, California.
The Beak Doctor nods to David George.
Produced by Woody Woodman and Henry Kaiser.