BD5: THE SOCIAL SET (LP)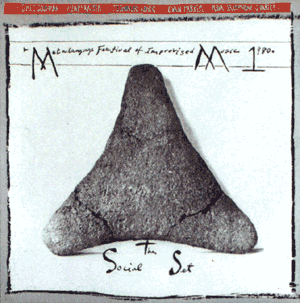 The Social Set consists of two extended whole-group pieces and was recorded in 1980 during The Metalanguage Festival of Improvised Music: a scrummage of musicians who had previously recorded on The Beak Doctor/Metalanguage label.
This music was revealed in the hills above Berkeley (1750 Arch Street Studio) and was a full-blown, all-day affair. We probably ate pizza.

BD5: The Social Set -- The Metalanguage Festival of Improvised Music 1980 Volume 1

Bruce Ackley: soprano saxophone
Greg Goodman: piano & percussion
Henry Kaiser: electric guitar
Toshinori Kondo: trumpet
Larry Ochs: tenor & sopranino saxophones
Evan Parker: tenor & soprano saxophones
Jon Raskin: clarinet, baritone & alto saxophones
Andrew Voigt: alto & sopranino saxophones

Side 1: The Social Set, part 1 (23:04)
Side 2: The Social Set, part 2 (24:03)

Recorded on October 19, 1980, in Berkeley
at 1750 Arch Street Studio by Bob Shumaker.

Mastered by Phil Brown at Warner Brothers, Los Angeles.
Produced by Henry Kaiser in conjunction with Beak Doctor Records.
Cover design and layout: M.K. Frank, Berkeley.
© (P) Metalanguage, 1980.
LP: presently out of print; Released as CD in 2002.
Presently out of print. Inquire with the Main Beak.