BD6: THE SCIENCE SET THE METALANGUANGE FESTIVAL OF IMPROVISED MUSIC 1980 VOLUME 2 (LP)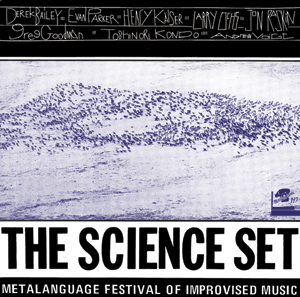 The Metalanguage Festival of Improvised Music brought together a scrummage of musicians who had previously recorded on The Beak Doctor/Metalanguage label.
The Science Set was recorded in performance on October 21, 1980, at The Great American Music Hall in San Francisco, a grand hall with lots of age and rubbed-off gold. We got the feeling, gazing from the stage at the high ceilings above the wrap-around box seating, that it was The Roman Coliseum. If we squeezed into our Lion costumes, we could make a night of it. The contests were in duos, trios, quartets, and an occasional solo: someone battling himself.
BD6: The Science Set -- The Metalanguage Festival of Improvised Music 1980, Volume 2


Derek Bailey: acoustic guitar

Greg Goodman: piano & percussion

Henry Kaiser: electric guitar

Toshinori Kondo: trumpet

Larry Ochs: tenor & sopranino saxophones

Evan Parker: tenor & soprano saxophones

Jon Raskin: clarinet, baritone & alto saxophones

Andrew Voigt: alto & sopranino saxophones

Side 1 (24:41)

Cumulus: Kaiser, Voigt (4:32)

Gabbro Scoops: Bailey, Ochs, Kondo (5:20)

Lexeme: Parker, Goodman, Raskin, Ochs (7:08)

Xenon: Kondo, Parker (7:41)
Side 2 (27:08)

Realgar: Bailey, Raskin (4:47)

Carpus: Kondo, Kaiser, Goodman (7:45)

Basalt: Parker solo (7:54)

Applied Ions: Ensemble (6:42)
Recorded in San Francisco at The Great American Music Hall by Bob Shumaker.

Mastered by Phil Brown at Warner Brothers, Los Angeles.


Produced by Larry Ochs in conjunction with Beak Doctor Records.

Cover design and layout: M.K. Frank, Berkeley.

Special thanks to Lee Brinkman, Tom and Judy Bradshaw.
Presently out of print. Inquire with the Main Beak.