BD7: THEY WERE GENTLE AND PRETTY PIGS (CD)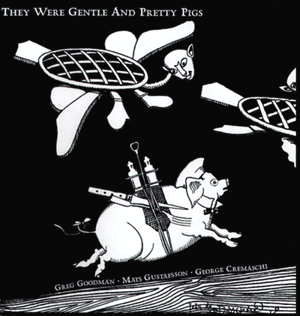 This investigation reflects a wonderful meeting during February 1999, when our co-conspirators spent a week together, mostly around Woody Woodman's Finger Palace, but occasionally at better restaurants in the Bay Area of San Francisco. There were two nights of performances and several more casual sessions. Most days were sunny.
Greg, Mats, and George have quite different historical inclinations: Mats hails from Sweden (Lapland, very close to the Arctic Circle), George is connected to Italy and Spain (with heavy Moorish, Sephardic Jew and Celtic influence) via Argentina, Greg's grandmother traveled Gypsy-like from the center of Rumania; there might be a Russian in there somewhere. If you hear any of these influences in the music, you are probably imagining them. The great impact of these backgrounds was on where the three ate during that week.
Similarly, it can be said that coming from different locations in the world, they are always on different time schedules. The effects of this can clearly be heard because, even when playing exactly the same note at precisely the same moment, they are obviously in quite different time zones.
You might get exactly the same effect if all three were in the same room pretending to be in the same room while wondering how they got in the room. If this is too confusing, think of three gentle and pretty pigs, and what they would do together.
Whatever that is, you get to listen to it.


BD7: They Were Gentle And Pretty Pigs
Greg Goodman: Unprepared Piano & Objets d'interieur
Mats Gustafsson: Imposing Saxophones, Disgruntled Flute
George Cremaschi: Contrabass & Very Strict Rulers
| | | |
| --- | --- | --- |
| 1) I | | (5:08) |
| 2) II | M | (3:25) |
| 3) III | MO | (1:52) |
| 4) IV | MOV | (8:07) |
| 5) V | MOVE | (6:17) |
| 6) VI | MOVEM | (6:36) |
| 7) VII | MOVEME | (4:02) |
| 8) VIII | MOVEMEN | (8:13) |
| 9) 9th | MOVEMENT | (9:59) |
Recorded February 5 & 6, 1999
Woody Woodman's Finger Palace, Berkeley, California, USA
Produced by Woody Woodman & George Cremaschi
Cover illustration and title from The City Curious by Jean de Bosschère, 1920
All compositions © 2002 Greg Goodman, George Cremaschi [BMI] & Mats Gustafsson [STIM/NcB]
Published by The Beak Doctor